Ten Great Free Workout Videos from YouTube
Here are some of the best videos we found on YouTube recently for working out.
Jan 14, 2016 - youtube.com -

33
2
Morning Yoga Perfection | 5 Minute Miracle | Rise & Shine Sleepy Bear Yoga
Jan 14, 2016 - youtube.com -

23
This is a easy quick morning yoga routine that you can do anywhere, even in bed! Its the perfect way to start your day. This 5 min sequence will get your blood pumping, wake up your nervous system and help you get out of bed with ease and joy.
3
20-Minute Calorie Scorcher That Even a Beginner Can Do | Class FitSugar
Jan 14, 2016 - youtube.com -

22
Here's the at-home workout you have been waiting for. In only 20 minutes, we will work your entire body with no equipment needed. And if you are new to working out, we offer modifications for beginners so everyone can follow along. To start your sweat sesh, just press play.
4
SLIMMER, STRONGER BODY in 40 min. BEST BEGINNER PILATES WORKOUT W/Voice Over
Jan 14, 2016 - youtube.com -

30
5
VSX Sport Presents the Sexiest Workout Ever: Core
Jan 14, 2016 - youtube.com -

22
Victoria's Secret Angel Doutzen Kroes and Supermodel trainer Michael Olajide take you through a customized fitness routine for a strong core and toned abs. Features some of Olajide's best runway-readying moves, plus tried-and-true tips submitted by fans of the VSX Facebook page.
6
DJ Khaled Teaches Us the Keys to a Perfect Workout on Get Sweaty With Emily Oberg
Jan 14, 2016 - youtube.com -

20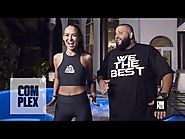 7
Jillian Michaels 30 Day Shred: Level 1
Jan 14, 2016 - youtube.com -

19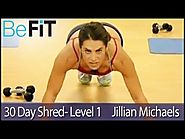 Jillian Michaels 30 Day Shred Level 1 will burn fat with this interval training fitness system, combining strength, cardio, and abs workouts that blast calories to get you shredded and ripped. This workout is from Jillian Micheal's the DVD 30 Day Shred. Click here to sign up for the BeFit newsletter for workout tips, recipes and more!
8
Gold's Gym At Home Workouts - Routine 1 : Upper Body Strengthening - Chest Shoulder Triceps
Jan 14, 2016 - youtube.com -

16
Routine 1 of Gold's Gym 15 minute workout is a workout session that focuses on the upper body and is called the Upper Body Chest Shoulder And Triceps Workout. The exercises are quite simple to follow and go up to 12 counts.
9
32 Minute Home Cardio Workout with No Equipment - Calorie Blasting Cardio Training
Jan 14, 2016 - youtube.com -

28
10
8 MINUTE MORNING Workout (Fast Morning FAT BURNER!!)
Jan 14, 2016 - youtube.com -

20
Perfect Morning Workouts to Burn Fat! http://athleanx.com/x/best-morning-routines Today's 8 minute morning workout is super fast and a great fat burner! This 8 minute workout might be short, but it's a real energizer and will help you burn calories and lose weight!