Great Survival Water Products!
If you're reading this I assume you have an interest in survival, but I won't assume your knowledge on the topic. So, allow me to cover some basics up front about water and survival.
YOU NEED WATER TO SURVIVE
Ok, glad we knocked that out. Let's get to some products that help you with that requirement in a survival situation.
Seriously though, before we discuss the products below I do want to lay out some basic information for you. In particular, I want to address three terms that will help you with a better understanding of the process.
Purification and Treatment result in a similar fashion. They essentially kill or bind (make harmless) bacteria and microorganisms that may be found in the wild. These methods do not remove chemicals or other contaminants. This is not typically an issue in a typical rural survival situation, however, it really depends on the water source and what could potentially contaminate it. For instance, if the industrial waste is being dumped into the source upstream from your collection point these methods would not render the water safe to drink.
Filtration. Filtration as the name implies filters contaminants out of the water. Many filters today use a combination of filtration and treatment by the use of impregnated filters and other techniques. It is important to read and understand the specifications of the filter you choose as the level of filtration varies among products.
There are numerous methods you can utilize as well as many great products on the market. We've thrown together some reputable ones below along with their descriptions. Shop around and stock/pack the products right for you!
Bleach is another effective method for treating water. Rather than reinvent the wheel and typing out the process here I'll give you this EPA link that gives the guidance on it. EPA BLEACH LINK
Apr 13, 2017 - amazon.com -

1
A Time Magazine Invention of the Year winner, LifeStraw contains no chemicals, no batteries, and no moving parts to wear out. It features a high flow rate and weighs only 2oz. It is perfect for the Ultralight backpacker, camper, hiker, traveler, boy scout, hunter or for emergencies. Unlike many similar filters on the market today, LifeStraw has met EPA standards for water filtration in independent testing. LifeStraw has been used around the world under extreme conditions for humanitarian relief. Does not filter chemicals, salt, viruses, heavy metals, taste. Please NOTE: It takes roughly 3-5 seconds of sucking to start the flow of water through the filter.
Apr 13, 2017 - amazon.com -

2
Made of the highest quality construction, this robust water filter is ideal for long lasting continuous use. The filter's silver impregnated ceramic element is effective against bacteria and protozoa, using a Micro Filtration method. Up to 1 quart (1 liter)/minute Cartridge capacity, up to 13,000 gallons (50,000 liters), depending on water quality. This pocket water filter is a favorite of outdoor enthusiasts and international travelers, and the U.S. Military. 20 Year Warranty.
Boiling is an oldie but goodie. So old it's been used as long as recorded history. If it was good enough for our ancestors it's plenty good enough for us, right! As long as you're drawing your water from a relatively safe source (non-chemical dump) boiling should do just fine. There are numerous different schools of thought and opinions on the amount of time the water should be boiled. If you bring the water to a rolling boil and sustain it for one minute (above 5,000 ft make it 3 minutes) you have effectively sterilized the water according to the EPA. If the water is cloudy you should let it sit and settle then filter it through a cloth or other filter prior to boiling. If you want to go longer have at it; just remember in a survival situation resources and effort should be wisely rationed. I highly recommend that you make a steel cup part of your hiking/survival pack for this and other reasons.
Apr 13, 2017 - amazon.com -

0
Used worldwide by campers, hikers, militaries, emergency organizations, and anyone else who needs to drink water of questionable quality, these Portable Aqua iodine tablets will disinfect contaminated drinking water in a pinch. The tablets--which are intended for short-term or limited emergency use only--make most water bacteriologically suitable for drinking, proving effective against Giardia lamblia when used as directed.
Each Potable Aqua tablet contains 20 mg of Tetraglycine Hydroperiodide (TGHP), which liberates 8 mg of titratable iodine when released into water. Within 30 minutes, the iodine will have penetrated the cell walls of the microorganisms, rendering them inactive and making the water safe to drink.
Apr 13, 2017 - amazon.com -

5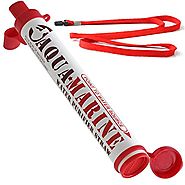 GREAT FOR SURVIVAL AND EMERGENCY KITS: OxGord a trusted brand name now has something to add to your survival kit, emergency gear or just to have when camping, hiking or doing any outdoor activity or sport. Our Aqua Marine Personal Water Purifier Straw is a great accessory to add to your bug out bag or survival kit.
Our ultralight survival water purifier weighs in at just under 3 ounces and measures only 7.5" long making it perfect for everyday carry or a bug-out bag for emergencies. The chemical free filter uses a multi-stage filtration process making your drinking water safe and healthy by removing 99.9999% of waterborne bacteria and parasites including: E. Coli, Staphylococcus Aureus, Salmonella Typhi, Cholera, Legionella, and more. The first stage is the Pre-Filter System which removes larger objects like sediment, bugs, dust, algae, and other suspended pollutants in the water, reducing the turbidity value of the water, instantly making it more clean. Next is the MIR High Iodine Bactericidal Resin Filter Layer which thoroughly kills pathogenic bacteria (E. Coli, Staphylococcus, Salmonella, Cholera, etc.) with a sterilization rate of more than 99.9999%. Then comes the Coconut Husk Granule Active Carbon Layer. This layer removes poisonous substances from the water and improves the smell. Finally, the Activated Carbon Fiber Layer helps absorb chemical pollutants in water, improving the water taste and further reducing the turbidity value of water. (Turbidity is the cloudiness of a fluid caused by large numbers of individual particles in the water). Within each of these 4 layers are multiple levels of filtration, bringing the total number of filtration levels to 10 for superior water purification in outdoor or survival settings .Our Aqau-Marine Personal Straw Water Purifier is perfect for camping, hiking, and to keep in your bug-out bag for emergency situations.
Apr 13, 2017 - amazon.com -

1
I'm a big fan of these personally.
The Sawyer Mini Water Filter is a second generation filter that is the lightest and most versatile personal filtration system from Sawyer. With a total field weight of 2 ounces it fits in the palm of your hand. This tiny filter does the same job that the Sawyer PointOne filter does but now in a more compact, personal size. The Sawyer Mini filter is perfect for everything from camping with the kids to traveling abroad where tap and bottle water cannot be trusted.
The filter removes 7 log (99.99999%) of all bacteria (like salmonella) as well as other harmful bacteria which causes cholera and E. coli and 6 log (99.9999%) of all protozoa such as giardia and cryptosporidium. These removal rates equal or exceed other filter options. EPA guidelines allow ten times more protozoa left in the water than Sawyer PointOne filters allow.
Attach the Mini to the included drinking pouch, use the included straw to drink directly from your water source, connect it to hydration pack tubing (sold separately), or screw it onto standard disposable bottles (28 mm thread). The Sawyer Mini Water Filter is rated up to 100,000 gallons. It comes with 16-ounce reusable squeeze pouch, 7-inch drinking straw, and cleaning plunger.
Apr 13, 2017 - amazon.com -

2
Introducing the Survivor Filter PRO: With 2 cleanable Membrane Ultra Filters capable of filtering down to 0.01 Microns. We also added a replaceable Carbon Filter, to help with taste and reduce Heavy Metals. The Survivor Filter PRO provides you with clean water in any environment.
Pump into Hydration Device or Attachable Cup: Get fast filtered water directly from nature. Flow rate of 17 ounces (500ml) per minute. Perfect for large groups and families.
Can Be Backwashed in the Wild: The Survivor Filter's Dual Membrane Ultra Filters are designed to last 100,000 Liters (26,417 gallons) and can be easily back-flushed and cleaned in the wild for extended water filtration. This product is built for long-term use and emergency situations.

Designed for Rugged Outdoor Use: The Survivor Filter is designed to take a beating with its FDA approved, BPA Free ABS Durable Material. There is a Steel Draw Bar under the plastic handle to add strength and durability. The product shell has been tested to withstand up to 250 pounds of pressure.
Packs Easy and Takes Up Little Space: Compact design weighs only 3.5 ounces (100 grams) and is 7 inches long. Easily fits in your backpack or emergency kit.
Apr 13, 2017 - amazon.com -

3
Mat Finished Aircraft Grade Aluminum Sleeve with a water-drop shape(looking from the bottom), it fits in the palm of your hand, while enhancing the handhelds touch to prevent it from slipping.
99.99999% removal of waterborne bacteria and 99.99% of cysts, equipped carbon filter brings better taste and odor.
Reusable and Replaceable Filters last up to 792 gallons and then can be easily cleaned or replaced as needed.
Weighs only 8.7 oz.(245g), 5.8 inches long and easily fits in your knapsack, allows you to take it anywhere.
Super-fast Flow rate of 600ml (20 ounces) per minute.
Included Accessories: Carry bag, back flushing device, tubes, pre-filter, float, and spare O-rings are all included at no extra cost. Perfect for storing for emergencies.
Diercon Backs up all its Filtration Claims with the Real Testing Report (not only conclusions, but the details of testing method and datas are also noted) by reputable institute.
Diercon's Revolutionary Filter Technology is in use by many groups, including non-profit organizations, relief agencies, and governments around the world.
Apr 13, 2017 - amazon.com -

1
Dual-piston technology provides maximum output with minimum effort
The Vario Dual Technology Filter combines individual efficiency with the simplest possible handling. The technology consists of three filter levels: a high-performance glass fiber filter, a ceramic pre-filter that can be adjusted individually according to the cloudiness of the water, and active charcoal for eliminating odors. Cleanable ceramic disc lengthens life of primary microfilter, 0.2 Micron high surface area pleated glass-fiber microfilter removes waterborne bacteria. Replaceable carbon core reduces chemicals, pesticides and bad taste in water.
• Includes: Prefilter, Deluxe Carry Bag and Cleaning Pad
• Produces up to two quarts per minute in the faster flow mode and one quart per minute in longer life mode
• Weight: 15 oz, Height: 6.5"
• Uses a replaceable Katadyn carbon core and cleanable ceramic disc (included)
• 1 Year Warranty
Apr 13, 2017 - amazon.com -

0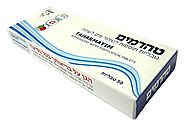 Taharmayim - Israeli water purification tablets, 50 Tablets in one box. Get clean drinking water anywhere! Taharmayim - water purification features: Full English instructions and information (see photos). Contains 50 tablets (!). Kills bacteria, fungi and amoeba which can cause dangerous stomach upsets, diarrhea etc. One tablet purifies a whole liter of dirty stream/river/lake/well/pond water in just 30 minutes (!). May also be used to purify fruits and vegetables. May also be used for emergency wound care (disinfection). Based on Sodium Dichloroisocyanurate and suitable for people with iodine allergies. Made in Israel.
Apr 13, 2017 - amazon.com -

0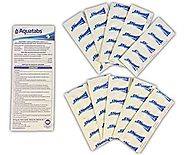 For over 100 years, chlorination of drinking water has been one of the single most effective means of improving public health in the developing world. It was with this in mind over 20 years ago, the research and development team at Medentech set out to create a unique product that could offer the benefits of chlorinated water in an easy to use and affordable product. As a result, Aquatabs was created and is now the most trusted brand of choice for point of use water disinfection around the world. Why use Aquatabs to treat water? 1. Many water sources throughout the world, even after filtration, remain contaminated and require some form of disinfection. 2. Aquatabs enable areas without access to water disinfection systems to benefit from the advantages of chlorination without any infrastructure requirements in a speedy and cost effective manner. 3. Aquatabs are simple to use, easily transported, cost effective and affordable to low income groups. 4. Aquatabs water purification tablets utilize materials specifically approved to International standards for use in drinking water with NSF/ANSI Standard 60 certification. 5. Aquatabs have been evaluated and selected by leading Aid Agencies, Non Governmental Organizations and Defense Forces worldwide.
Apr 13, 2017 - amazon.com -

0
Clean, pure water anywhere you need it
Polar Pure is the most trusted and widely used method of water treatment on the market, relied on every day by backpackers, hikers, relief efforts and the military. Polar Pure exceeds the FDA's minimum standard for sterilization by killing all bacteria and viruses, as well as their mutations. This goes beyond the capabilities of water tablets and filter straws, which leave mutations to repopulate with greater virility and viruses untouched due to their size.
The most cost-effective and efficient water treatment method
Polar Pure Iodine Water Purifier lets you decontaminate 2,000 liters of water while a comparable dose of water tablets will filter only 25 liters. The cost to use Polar Pure is just 1cent per quart, while water tablets cost 12 cents per CUP. Our purification method is also shelf-stable, maintaining its' potency indefinitely as long as it remains capped between uses. Conversely, water tablets begin losing their efficacy as soon as you open the bottle. Also, our product can render large amounts of water potable. All of these properties make Polar Pure ideal for large-scale humanitarian relief efforts and emergency preparedness. Hikers and campers love it because the proprietary bottle with built-in temperature gauge tells them exactly how much to use for their personal needs, and it doesn't take up a lot of space in their backpacks. A 5-ounce bottle fits in the palm of your hand.
Polar Pure is an indispensable accessory for any storm shelter, emergency supplies or travel kit.
• Be prepared to enjoy clean, drinkable water from any source. Add Polar Pure Iodine Water Purifier to your cart today.
Apr 13, 2017 - amazon.com -

0
The Adventurer Opti Water Purifier uses a revolutionary optical eye to sense the water. The patent-pending technology provides safe use and the standard insulating sleeve around the UV lamp allows purification in even the coldest of waters. Fast, light, easy and effective, the provides the ultimate protection from waterborne illnesses. UV purification works as the ultraviolet energy emitted by the light is absorbed by the cells of the microbe, preventing cell enzymes from 'reading' its DNA. Without intact DNA, microbes can't reproduce to make you sick. The process is simple but effective, destroying over 99.9 percent of harmful microorganisms. Great for camping, hiking and backpacking. Easy to use 1 button operation; LED light quickly indicates when ready to purify, then place the pen like lamp in clear water and stir until indicator light turns green. Dirty water should be pre filtered until clear prior to treatment. The UV lamp provides up to 8,000 one liter treatments. Device works with containers with minimum 1.75 in. diameter opening (i.e. Nalgene wide-mouth bottles). Low power indicator lets you know when batteries need replacing. Automatic shut off when treatment is complete. Includes black neoprene case with belt loop and 2 non-rechargeable CR123 batteries and instructions.