10 Awesome Survival Gifts and Stocking Stuffers for this Christmas
Below we've created an excellent goto list for that special outdoorsy survivalist in your life. The list itself is in no particular order and offers great items with widely varying price ranges.
Make sure and check out all our great training and information at OMEGA GROUP CONSULTANTS
1
Give the Gift of Training
How about a one on one day of training with the former 1SG of the US ARMY SERE (SURVIVAL, EVASION, RESISTANCE, and ESCAPE ) School. One of the absolute best gifts you can give is the gift of training. Not only is it an enjoyable and rewarding experience, but it's also something the recipient will keep for the rest of their life! At Omega Group Consultant we offer Training Gift Cards that can be applied to any of our scheduled courses, and if you hurry we're currently offering an excellent special for this holiday season.
What better way to show your love than a ticket to some of the best training offered!
2
Sawyer Products Mini Water Filtration System
Versatile, Use Anywhere, Take Anywhere Size and Features
The Sawyer Mini is one of the most versatile personal filtration systems available and comes with all the accessories you need to use this system in any of the following ways.
Attach to the included 16 ounce reusable squeeze pouch to drink directly from the filter or squeeze water into a water bottle
Attach to most disposable water or soda bottles
Attach inline on a hydration pack - no adapters required
Use the included personal drinking straw and drink directly from the source or scoop up a bottle of water directly from any freshwater lake, river or stream

With all these options, the Sawyer Mini becomes a great solution for camping, backpacking, hiking, hunting, fishing, international travel, emergency preparedness and more.
Absolute Micron Filtering Technology Makes The Difference
illustration of filter microtubes
"U" shaped micro-tubes allow water to enter into their core
The proprietary element of Sawyer's water filters is comprised of tiny "U" shaped micro-tubes that allow water to enter into their core through tiny micro-pores. The high number of those tiny tubes and their surface area allows the filter to have one of the fastest flow rates in the world. This high flow rate eliminates the need to store water, reducing the possibility of water contamination after the filtration process.
Each filter is certified for absolute microns; that means there is no pore size larger than 0.1 in size. This makes it nearly impossible for harmful bacteria, protozoa, or cysts like E. coli, Giardia, Vibrio cholerae and Salmonella typhi (which cause Cholera and Typhoid) to pass through the Sawyer Mini filter. Sawyer filters have been tested by independent and qualified research laboratories and found to remove 7 log (99.99999%) of bacteria and 6 log (99.9999%) of protozoa, exceeding US EPA standards. The filter does not remove chemicals, dissolved solids, or viruses. However, viruses are very rarely found in North America or when traveling to foreign cities.
Sawyer's revolutionary filter technology is in use by hundreds of groups, including non-profit organizations, relief agencies, and governments in more than 70 countries around the world.
3
SAS Survival Handbook, Third Edition: The Ultimate Guide to Surviving Anywhere
The ultimate guide to surviving anywhere, now updated with more than 100 pages of additional material
Revised to reflect the latest in survival knowledge and technology, and covering new topics such as urban survival and terrorism, the internationally bestselling SAS Survival Handbook is the definitive resource for all campers, hikers, and outdoor adventurers. From basic campcraft and navigation to fear management and strategies for coping with any type of disaster, this complete course includes:
Being prepared: Understanding basic survival skills, like reading the weather, and preparation essentials, such as a pocket survival kit.
Making camp: Finding the best location, constructing the appropriate shelter, organizing camp, staying warm, and creating tools.
Food: What to eat, what to avoid, where to find it, and how to prepare it.
First aid: A comprehensive course in emergency/wilderness medicine, including how to maximize survival in any climate or when injured.
Disaster survival: How to react in the face of natural disasters and hostile situations—and how to survive if all services and supplies are cut off.
Self-defense: Arming yourself with basic hand-to-hand combat techniques.
Security: Protecting your family and property from intrusion, break-ins, and theft.
Climate & terrain: Overcoming any location, from the tropics to the poles, from the desert to the mountains and sea.
4
Estwing E24A Sportsman's Hatchet Metal Handle
Product Description
The item is Estwing E24A 14-Inch Sportsman's Axe with Nylon Sheath with leather grip. Used for Handtools & Tool Organizers, Other Hand Tools. The product is manufactured in United States.
From the Manufacturer
Used by sportsmen, foresters and scouts for an effective axe with a light carrying weight. Since 1923, the Estwing family and its employees have taken pride in designing and manufacturing the world's most durable, comfortable and attractive striking and struck tools. All claw hammers, axes, specialty tools and pry bars are manufactured to the highest possible standards and offer a true value to both tradesmen and craftsmen alike.
Imagine this-- freshly foraged chicken of the woods filets, pan cooked over an open fire courtesy of the BioLite CampStove, served with a side of wilted dandelion greens, and aromatic rosemary sprinkled atop warm, buttery rice. If your mouth is watering with anticipation and dreams of recreating such an idyllic, delicious scenario, you're in luck because the CampStove can make your gourmet camp food dreams a reality. Thanks to such an innovative stove, long gone are the days when your vittles were restricted to watery mac'n'cheese, peanut butter sandwiches, and questionable dehydrated food. The CampStove doesn't just provide savory meals--it's a stove, electrical power, and heat source all rolled into one. This convenient, self-sustaining stove is about the size of a 32 oz, BPA free water bottle, emanates smokeless flames, and its' advantageous powerpack easily nests within the heat mesh stove (just make sure the stove has cooled down before nesting). In place of cumbersome, excessive, and rather expensive fuel canisters, this easy-to-use stove only desires to be fueled with scrounged up twigs, pinecones, or any other flammable biomass that you discover whilst travelling. So you can forget about those eyebrow-raising fuel receipts and spend your money more wisely elsewhere, like on additional delicious frothy beverages or s'mores supplies. One of the most appealing aspects of the CampStove is its intuitive recycling of energy. While your chicken of the woods simmers in a sea of butter, your phone charges in 20 minutes time, providing an additional 60 minutes of talk time to the pre-existing battery life. However, in order to harness the electricity that's required to charge your phone, lights, or squirrel-sized jet pack, the BioLite's patented core technology captures otherwise wasted fire-heat through a heat probe attached to the brightly colored, orange powerpack. The powerpack then converts the heat into usable electricity via a thermoelectric generator. This truly is an innovative product.
6
The Original Space Blanket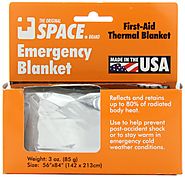 The Emergency Space Blanket from Grabber is something you always want to have on hand. It will aid in keeping your warm when you need it. It's compact enough that it fits in your pocket. PRODUCT FEATURES: Windproof, waterproof and flexible to -60 The blanket reflects back 80% of body heat utilizing super insulation proven in space missions Opens to a full 56"x 84" size Weight: 1.5 oz 127010 , Grabber Emergency Space Blanket , survival , tent footprint , insulation , keep warm , emergency , backpacking , hiking ...
The Sport's compound parabolic reflectors and tubular design converts nearly 80% of all sunlight entering it's refectories into useable heat.
The standard package includes a durable borosilicate, evacuated glass tube cooking chamber, two foldable parabolic reflectors that fold to protect the tube like a clamshell, a stainless steel cooking tray, a rugged scrubby cleaning tool that attaches onto the tray's end and stainless steel carrying handles.
Fast: Cooks a meal in as little as 20 minutes, reaching temperatures up to 550°F/ 290°C
Cooks When Cloudy: You don't have to see the Sun to solar cook! The GoSun is so effective almost no day is off limits!
Portable: Deploys in seconds and collapses into a durable package. GoSun anywhere!
Fuel-Free: No mess. No flames. No cost. Always prepared for delicious! Versatile: steam, bake, fry, roast and boil, anything is possible inside the tube.
8
Yo Yo (AUTO) Fishing Reels
These are pretty awesome and excellent in a survival situation where you have numerous tasks that need completed.
You will receive 2 Mechanical Fisher Reels and 1 instruction booklet, neatly packaged in a single padded envelope. These are the Best reels on the market. The Stainless Steel Spring is the best choice for Fisherman, Preppers, Survivalists and Hunters. They're very easy to use. Simply attach to the object of your choice, bait the hook, set depth and trigger, then wait. The Mechanical Fisher does the rest. It sets the hook, and retrieves the fish! Kind of like a mouse trap for Fish, but these do not kill the fish.
9
The Ultimate Paracord Survival Kit Bracelet by LAST MAN Survival Gear
The LAST MAN Food, Fire, Shelter paracord bracelet survival kit contains the following items: 1 x 12' length of nylon paracord cordage, 1 x Snelled 3/0 offset kale hook with 20" leader line, 1 x Snelled #2 offset kale hook with 20" leader line, 2 x 1 1/8 inch line swivels, 1 x 30 ft length 10lb test fishing line, 2 x 1/2 inch foam bobbers, 2 x 3/8 inch egg sinkers, 1 x 2 1/4 inch ferrocerium fire starter rod, 1 x 2 inch diameter serrated fire striker, 1 x Dried grass tinder bundle, 1 x 1 square inch Alcohol pad, 2 x 1 3/4 inch safety pins, 1 x Compass (select models) Instructions included.
10
Portable Windproof Waterproof Survival Matches
An excellent stocking stuffer these matches work great in adverse conditions
Burns in the strongest winds
Wax coated for waterproofing
Perfect for Camping, Hiking & Emergencies
A must for any survival pack